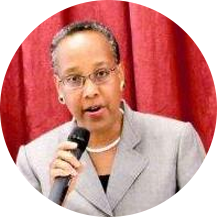 Meet Janet Blount
Janet Blount is a licensed Certified Public Accountant as well as a Certified Professional Coach and Career Development Facilitator. She has an undergraduate degree in Economics from Agnes Scott College and a MBA from University of Baltimore. Janet has experience in banking, as a Federal government auditor, a Financial Advisor and as a Compliance Manager for an international brokerage firm. She also received the President's Community Architect of the Year Award from the American Institute of Architects – Baltimore Chapter as their outreach program volunteer team leader. She is the former chairperson of the Maryland Career Development Association's Mentoring and Outreach Committee.
Janet has partnered with schools and non-profit organizations to create career exploration opportunities for students.
"After reading about our school and the unfortunate events that plagued our community last year, Mrs. Blount, came to us with an unparalleled passion for changing the outcomes for our students. She understood the fierce social justice mission of our school and pledged to commit her personal time and resources to creating opportunities for our students in the areas of professional career exposure. She has organized numerous small groups of students to tour construction sites, catering companies, law firms, and countless other professional settings that many of our students have never had the opportunity to visit. She believes that every child, regardless of his or her current life station, deserves to have a chance to seek and realize their professional dreams. She is a tireless advocate for equity and the power of hard work to change the trajectory of a life."
– H. A. Baltimore, MD High School Social Worker
Janet is the mother of two adult sons who graduated from college and graduate school and are now gainfully employed. She remembers the 'deer in headlights' look in her sons' eyes whenever they discussed life after high school. As juniors and seniors they couldn't say, "These are my interests and strengths … my possible career paths … the education I need … and my plan to get there."
Janet's sons were not alone. She discovered that …
"Only about a third of ACT-tested high school graduates selected a college major that is a good fit with their interests … Students who change their major while in college may have to take additional courses to satisfy degree requirements or even transfer to a different institution, potentially delaying their graduation … Students who start out with the right major choice can save significant time and money, which is increasingly important given the rising cost of attending college."*
Janet designed a Career Exploration Program for Parents, Grandparents and other Caring Adults. The 2 hour workshop provides the skills, tools and confidence to guide elementary, middle, and high school children in exploring various career options.
Janet learned that aware parents can help their children make smarter career decisions with a brighter long-term outcome. Today, through her personal coaching for parents or her popular workshop, Janet will prepare you to guide and support your children toward future career success!
*(Research report from ACT titled 'College Choice Report Part 1: Preferences and Prospects:
http://www.act.org/newsroom/releases/view.php?lang=english&p=3064)